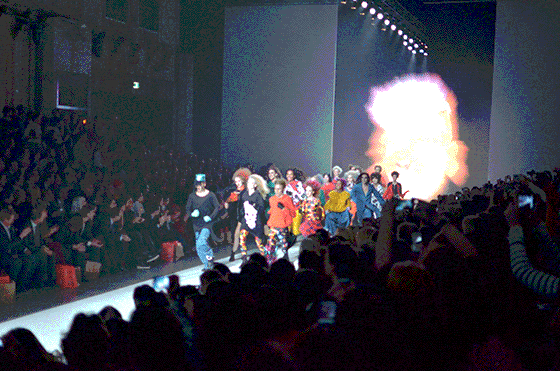 AIFW 12/13 - Bas Kosters
One crazy show – these words can definitely describe
Bas Kosters'
1 2 Tree presentation. It started with a recording of lots of ringing phones, the usual cue for the public to switch off their phones, framed by an interesting arrangement. The audience got fooled when the designer himself holding a prop phone stepped on the catwalk accompanied by a troupe of models/dancers wearing highly colorful, fringed outfits. Following more phone sounds, the show kicked off.
Colour, colour, colour – the main feature of the collection along with shiny fabrics, collages of patterns, crazy hairstyles, reflecting make–up and face wear. Wicked mask visuals at the back adding even more freakiness to the clothing. A theatrical performance in every sense, music suddenly stopped and the models frozen in movement while there would be a recording from a voice machine, songs mashed up according to the theme. The designer's idea of life in the city while trying to find the connection with nature.
The end was also spectacular with the models running, not walking, on the runway in bigger and bigger groups, followed by Bas Kosters with a model wearing his closing outfit.
Photos & Text by Marta Baniukiewicz